Game: 年上お姉さんの恋愛トレーニング ~Elder Sister's Love Training~ Free Download

A shy protagonist undergoes an intense training for his first kiss!! Everything for the sake of the one he loves…
About This Game
Elder Sister's Love Training ~年上お姉さんの恋愛トレーニング~ is a romance visual novel that depicts the growth of a shy protagonist until giving his first kiss to his girlfriend, after receiving love training from women around him.
A Bishojo Game released in 2018 under the "Incarose" brand has been reworked for the "PandaShojo" platform for players of all ages worldwide to enjoy.
◆Introduction
My first girlfriend who was the one that confessed to me.
Seems like it was because I was "very kind to girls".
I won't deny that, I am very nice to girls.
"
So nice that I haven't given a single kiss in 6 months of our relationship…!"
◆Synopsis
Masato Mugara is a protagonist who is very shy and lacks confidence.
He has a girlfriend name "Miki Rikura"…
But he has a dilemma that he couldn't take that one step to kiss for half a year.
One day, Masato meets Kanade Sazashiki who is the best friend of Miki.
She had been discussing this matter with Miki, and proposed to Masato that he use her to practice how to love.
Feeling like he could not overcome his bashfulness on his own, Masato accepted the offer.
Furthermore, Miki's mother "Yayoi Rikura", who is concerned about the progress of the two,
suggested Masato practice how to treat a woman…
"
Can Masato give Miki a romantic kiss after receiving love tips from the two?!"
◆Characters
Miki Rikura
"Hey, Masato… Am I not attractive?"
A female college student who is the same age as Masato and currently his girlfriend.
She is beautiful, kind, family-oriented, and very popular amongst male students.
However, recently she has been feeling a little down since Masato never kisses her, and started to think she is not attractive.
Kanade Sazashiki
"How long are you going to make Miki wait…?"
Miki's best friend, who is older with a caring sister figure.
She works at a concept cafe and is a popular staff member with a good appearance and attitude.
After speaking with Miki, she started to give love tips to Masato.
Yayoi Rikura
"Are you giving enough attention to Miki?"
Miki's mother but more like an older sister from her young appearance.
She is cheerful and sociable and also likes to tease others.
Discovering that Miki's recent emotion was from Masato's shyness, she suggests Masato practice romantic relationships to improve.
Masato Mugara
Miki's boyfriend, who is an average male college student.
From his lack of confidence, he became extremely shy toward women.
However, he decides to receive training from Kanade and Yayoi to improve his confidence.
Game 年上お姉さんの恋愛トレーニング ~Elder Sister's Love Training~ Free Download (full, pre-installed)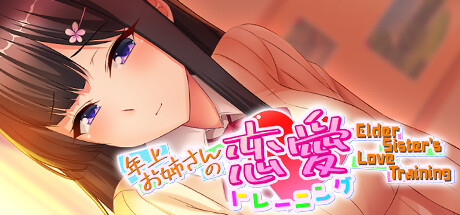 年上お姉さんの恋愛トレーニング ~Elder Sister's Love Training~ Trailer
Title: 年上お姉さんの恋愛トレーニング ~Elder Sister's Love Training~
Genre: Adventure, Casual, Simulation
Developer:
Publisher:
Release Date: 12 Jul, 2023
System Requirements
Minimum:

OS: Windows 7 / 8 / 8.1 /10(Including 64bit)
Free Download 年上お姉さんの恋愛トレーニング ~Elder Sister's Love Training~ Game
Full Game, latest version. Download for Free!