Game: Interstellar Sentinel Free Download

A thrilling sci-fi fantasy shmup / shoot'em up with epic boss battles and a vast arsenal of futuristic weapons! Battle legions of demonic entities, restore the cosmic balance, and save the universe! Flow state gaming to unleash your inner hero! Feel your skills grow on your way to 1CC S+ tier rank!
About This Game
Interstellar Sentinel is an action-packed shoot'em up that takes you on a sci-fi fantasy journey through legions of monsters, demons, and cosmic mind-ripping entities.
An inspired love letter to some of the best side-scrolling games ever made
I grew up playing games like Salamander/Life Force, Gradius, R-Type, Super Aleste, Einhander, Ikaruga, and more. Interstellar Sentinel features tight controls, digital & analog stick (PlayStation & Xbox controllers verified), stylized beautiful art with lite anime inspiration, and a rewarding experience that becomes more challenging as your skills grow.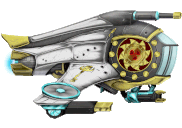 Designed For Flow State Gaming:
Also known as being "in the zone," refers to a mental state where a player is fully immersed and intensely focused on a video game. In this state, the player experiences a seamless and effortless gameplay experience, losing track of time and achieving peak performance. It is characterized by a perfect balance between the player's skills and the game's challenges, resulting in a deeply satisfying and enjoyable gaming experience.
Monster Trophy System
A hand-crafted dynamic difficulty system. This system provides gameplay depth, layering, and secrets the more your skills with piloting and weapon systems improve!
Monster Trophy Enemy



Monster Trophy System In Action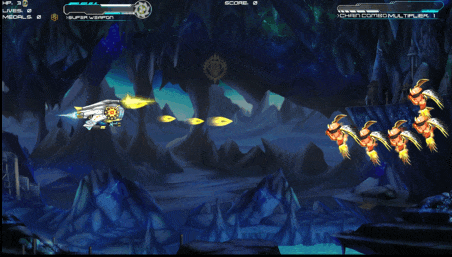 Be Thrilled:
This game will ignite your senses from the very first moment, and excitement will course through your veins. As legions of demonic entities swarm towards you, your fingers will dance on the controller, maneuvering your starfighter with precision and speed. The intense action, visually stunning graphics, and immersive sound effects will keep you at the edge of your seat, fully engaged in fast-paced battles.
Feel Empowered:
Your starfighter isn't just any ordinary ship; it's a powerhouse with an arsenal of deadly weapons. Over 55+ weapons are at your fingertips; as you collect weapon power-ups during intense battles, you'll experience a surge of empowerment. The feeling of turning the tables on hordes of enemies with a barrage of laser beams and missiles is simply euphoric, making you feel like an unstoppable force. Experience the unique flow of weapon cycling and adaptability to become a master of battle rhythms.
Be Immersed:
Mesmerizing environments that will draw you into its sci-fi fantasy universe. From giant kaiju bosses in cosmic landscapes to undead guardian dragons, each level is intricately designed to create an immersive experience. The seamless integration of music and sound effects adds another layer of immersion, making you feel like you're part of an epic battle opera.
Feel Relaxed and Mindful:
Amidst the chaos of intergalactic battles, you'll discover moments of zen-like focus. As you dodge incoming projectiles and navigate through tight spaces, you'll enter a state of flow where your mind becomes entirely absorbed in the gameplay. This meditative quality allows you to momentarily escape the pressures of daily life, providing a welcome respite and a chance to recharge.
The Shmup Soup You Deserve:
Interstellar Sentinel promises a unique shmup flavor experience that will leave you feeling thrilled, challenged, empowered, immersed, and occasionally relaxed. It's a breathtaking journey through a strange realm where sci-fi technology and magic have twisted together an epic journey to surprise and delight your imagination. Accompanied by intense action, stunning visuals, and characters. So buckle up, pilot, and prepare to embark on an emotional rollercoaster that will keep you coming back for more adventures.
Features:
Earworm Original Soundtrack:

Legendary original composed soundtrack from the brilliant mind of Chris Huelsbeck (The Great Giana Sisters, Turrican series, Tiny Thor, and more) comes a modern retro synth chip tune feast for the ears that captures the struggle of heroic friends straitening out a twisted world

Unique Starship Design & Weapon Point System:

Top & bottom weapon point starship design provides spatial choice gameplay. How you position your ship relative to the weapon points allows for advanced piloting techniques to dish out damage. Your ship weapons give you point-blanking capabilities. Think of it like sticking a shotgun in the face of an ugly demon and pulling the trigger for maximum impact.
Your ship's reactor core vulnerability point is the key to weaving through the bullet hell battlefield

Extensive Weaponry System:

top, Mid, & bottom Weapons Form A Weapon Set
19 weapon sets & over 55+ weapons to be mastered
Unique core loop gameplay experience with a high rate of weapon shifting that ties back into all key systems. Flow is in mastery of the ship weapon systems
Ship weapon sets are designed to scale in utility and versatility, with your base weapons being powerful to avoid "Gradius syndrome," where losing your weapons makes you want to start over because of your basic weapons feel like throwing wet noodles at hungry demons

Super Weapon System:

Destroying enemies unleashes their soul bits, monster soul essence, which power your super weapon
Generate a temporary starship soul shield
Cancels enemy bullets to generate higher score rewards
Produces Monster Star Gems to collect for bonus points
Unleashes the stored-up monster soul essence
A full super weapon bar is a terrible thing not to unleash on the very plague of demonic enemies that you harvested super weapon energy from

Ship Repair System:

Part of being a badass starship pilot is knowing that your ship can take a hit or two, sometimes even strategically.

Monster Trophy Medal System:

Screen clearing enemies and achieving high scores produces Monster Trophies. Monster Trophies spawn more challenging and unique enemies
Monster Trophy Medals are earned when defeating Monster Trophies, which in turn power up your Chain Combo meter
Monster Trophy hint system gives you a sense as to how much more there is behind the curtain of the universe

End Level Ranking System:

7 possible ranks from D to S+ tier ranks that drive dynamic challenges, minibosses, and may even unlock the secrets of the universe

Score System:

A dynamic score system that factors in Chain Combos, Monster Trophy Medals, Boss Time Bonuses rewards, Power-up, Surviving, and more that rewards players that are not traditional score chasers
Score transcends mere digits; your accumulated points serve as both additional lives and the path to advanced gameplay rewards like mini-bosses and the glowing admiration of your Twitch followers

Chain Combo System:

Destroy enemies before the chain combo meter ticks down to keep your high score going for maximum fun and prizes

Pacifist Mode Challenges:

Each level contains the pure joy and anxiety of surviving. Rule number one of Pacifist Mode, survive; rule number 2, see rule number 1

Local Leaderboards:

As your skills progress, your score is the key to measuring that progression. Chasing the 1 credit clear (no deaths game complete), and S+ tier ranks is a goal worthy of your gamer mantel. Etch your initials into your Hall of fame

Difficulty Select:

Choose from 3 levels of difficulty, Casual, Normy, & Heroic

Level Select:

Play and practice any level right from the start… can even peek up Santa's Chimney

Optional Tutorial:

Learn the basics of the Weapons, power-ups, and Monster Trophy Medal system

8 Levels Packed With Shmupping Goodness:

Newbie pilot friendly
Progressively harder difficulty curve, challenges, bosses, secrets, and more

Playthrough in About an Hour:

Your time is precious, and a game that can be completed in about an hour offers several unique benefits that cater to your lifestyle. Firstly, it provides a quick and fulfilling gaming experience for busy individuals who may not have the luxury of dedicating extended hours to gaming. The concise gameplay ensures you enjoy a complete adventure during short breaks or free moments. A tight replay loop means you can jump in see your skills improving and decompress to allow the experience to absorb into your muscle memory
Two out of every three doctors agree that a shmup session a day will bring you joy

Secrets-A-Plenty:

Find the secret in each level, test your piloting skills, and reap the rewards

Imaginative Boss Battles:

Ever wanted to fight a kaiju demon in outer space, or how about an interdimensional being called the Astral Ripper? They're waiting along with many more…, but we promise no evil clowns are waiting to stoke your Coulrophobia
Building upon a rich world of heroes, villains and more.

Interstellar Sentinel has you taking the role of the Starborn Sentinel DrBossKey, on an epic adventure across four worlds to fight against the Demonic Horde that threatens the balance of the universe. As you battle through legions of monsters and enemies, you must collect their souls to turn them into living weapons and use them to restore the balance of the cosmos.
With your starship, the Veil Piercer, as your trusty steed, you must lead the charge against the forces of darkness and bring peace to the galaxy. Through cosmic battles and epic showdowns, you will face the ultimate challenge of rebalancing the universe and saving all life from hellish corruption.
Are you ready to embark on this cosmic adventure and become the ultimate Sentinel of the Stars? Play Interstellar Sentinel and find out!

Game Interstellar Sentinel Free Download (full, pre-installed)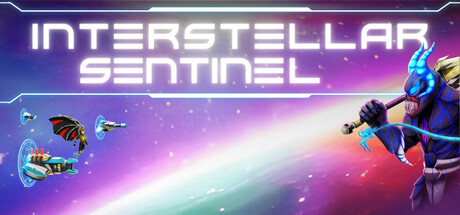 Interstellar Sentinel Trailer
Title: Interstellar Sentinel
Genre: Action
Developer:
Publisher:
Release Date: 2 Aug, 2023
System Requirements
Minimum:

OS: Windows 7
Processor: Intel Core2 Duo
Memory: 2 GB RAM
Graphics: Shader Model 3
DirectX: Version 9.0c
Storage: 400 MB available space
Free Download Interstellar Sentinel Game
Full Game, latest version. Download for Free!